Designer clothes, multimillion dollar mansions and personal staff. You may not be able to have the everyday lifestyle of Meghan Markle or Kate Middleton; but don't fret. With our help you can prepare to birth like a royal.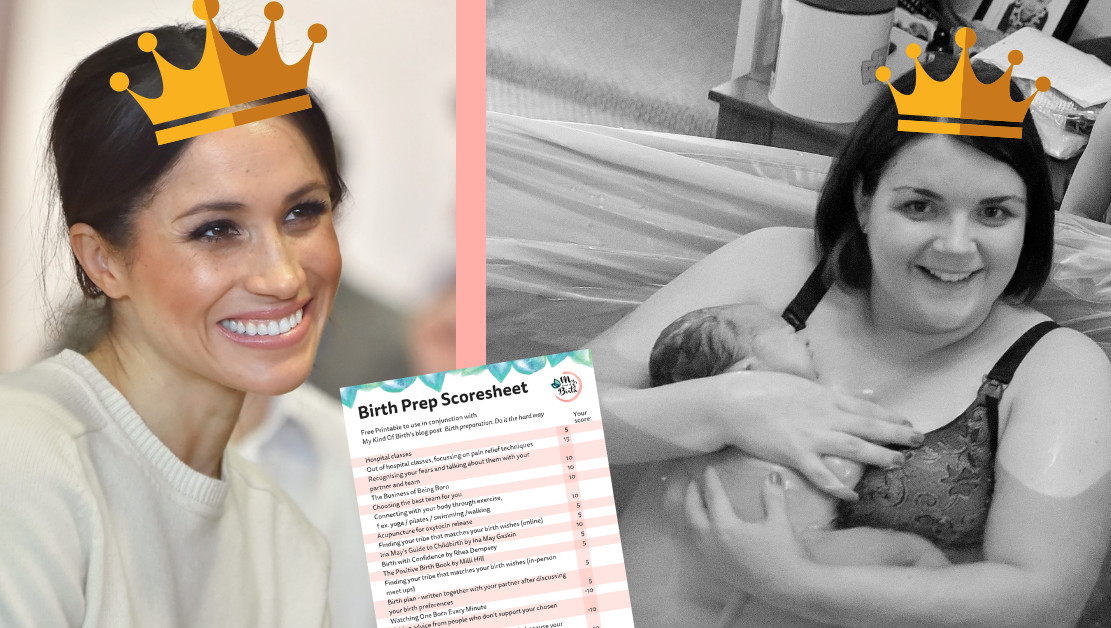 Make a plan, then let the haters hate

Both, Kate and Meghan, decided to have natural births. They chose the place of birth and their caregivers and then didn't discuss their plans much with the media or anyone. Be confident. No matter what you choose to do - haters gonna hate. So make a decision and make it clear that it is not up for discussion with anyone but your care provider. Not your mum. Not your neighbour. Not your dentist. You do you. No apologies needed.

Learn how to work with your body through prenatal yoga

Meghan Markle has been known to be a keen yogi. We can be sure she is got the best prenatal yoga gurus to help her prepare her body and mind for labour in her newly-built yoga room. Prenatal yoga is a great way to explore what your pregnant body is telling you and learn how to respond to that. Knowing your body and being able to work with it is one of the best ways to prepare for a natural birth. A gentle daily routine may also help reduce the common aches and pains of pregnancy. Find a class near you or check out some prenatal videos online, at DoYogaWithMe.

Get to know your mind

Yoga and mindfulness go hand in hand. So it's no surprise that the Duchess of Sussex also practises mindfulness. It's a real game changer for labour when you are able to observe your thoughts, emotions or reactions without letting them take over. If you can shift your focus away from the pain to a pain-management technique you are well on your way to 10cm. Some great apps to practise mindfulness are Mind the Bump and Headspace.

Get your partner on board

"And so the prince got down on his knees to give his labouring wife a hip squeeze. It was then that she realised just how much she loved him. She soon roared out a baby and they all lived happily ever after." All jokes aside, Prince Harry says he meditates every day, has been eating a healthier diet since he met Meghan and has given up alcohol while she is pregnant. He tries his best to support her in whatever way he can. There is no doubt that he supported Meghan's birth wishes. He is probably already watching birth videos on youtube and is bawling his eyes out. We get it, Harry! We get it.

Get a doula

One of the first things that was revealed about the royal couple's birth preparation was the fact they are hired a doula as professional birth support. Birth partners are good, but doulas are gold. When the contractions get too intense and you think you can't do it anymore a doula will get you through it. When your partner needs food, rest or some fresh air a doula won't leave your side. Continuous emotional and physical support from a trained birth doula increases your chances of having a natural birth.

Midwives are the bomb

Kate knew it. Meghan knows it. We've known it for a long time. The best birth outcomes - worldwide - happen in midwifery-led continuity of care programs. What does that mean? It means two to four midwives look after you for the entire pregnancy and birth. You'll know them and they'll know you. They'll know your preferences and your worries. Important matters, where possible, will have been discussed before labour starts, so when things get cracking you can focus entirely on bringing this baby into the world. The Duchess of Cambridge developed a strong bond with her midwife. When Kate spotted her at a function at the Royal College of Obstetricians and Gynaecologists she stepped aside to say hello and give her a warm hug.

Release some oxytocin, baby!

Oxytocin, oxytocin, oxytocin! Going into labour spontaneously (without artificial hormones, just the body doing its thing) is dependent on so many things. Your oxytocin and adrenalin levels are one factor. A relaxing acupuncture treatment can be a great way to prepare for labour and move things along and Meghan Markle knows that. She's been using acupuncture before and during the pregnancy. Even one relaxing acupuncture or massage session - possibly when your waters have broken but contractions haven't started yet - can help you release enough oxytocin for your body to get started.

We'll tell you when we're ready

The last announcement during the pregnancy told us that the Duke and Duchess know how important the first few hours of undisturbed skin-to-skin cuddles are for bonding and breastfeeding success. They won't be showing off their newborn on the steps of the hospital just hours after the birth. Instead, they'll hold a very small photo shoot a few days later with only one photographer and one reporter. You can do the same. Either don't tell family when you're going into labour or make it very clear that visits in the early days will happen on your terms. Not too many people, not too long, not too intense. Finally, if you don't have a personal chef and cleaner in your royal cottage, ask your visitors to bring food and do the dishes before they leave.

Location, location, location

There is of course another option why Meghan and Harry may have decided not to have to obligatory photos on the hospital steps… Did the Duchess plan on having the baby at home? The queen herself birthed all her four children at home; three at Buckingham Palace and one at Clarence House when the royal residence was undergoing renovations. Homebirth can be a safe birthing option when mum and baby are healthy and trained midwives are present. Labouring in familiar surroundings, not having to cram into the car while you're experiencing contractions, no bright lights and hospital gowns. I guess we'll find out soon enough what Meghan chose.
Either way, we wish the parents all the best in the coming weeks and months. Dear Duke & Duchess, you've got this!
XX
Sabrina
---
If you want to do all you can to ensure you have an awesome birth too, check out our online courses. Learn about how to take control of labour pain! You can also sign up to our newsletter to receive free online education materials.
Follow us on Facebook
for more info and motivation during your birth preparation journey!